Magic Key is the third level of Marda. It is also the first level with any actual difficulty (and more than one way to die).
It introduces the player to milk, spikes, rotating platforms, keys and key blocks.
Jump twice to your left so that you can flutter over the milk, flutter onto the rotating platforms, jump down to the key, jump back on the rotating platforms and wait a bit before fluttering to the teleporter.
Jump on the rotating platforms and wait for them to push you into the crown.
Speedrunning
Edit
This level is the first level to operate on cycles, meaning depending on your speed, you'll be able to catch different platforms. If you have a considerable speed, you can jump on a platform to your left after grabbing the key and moving to the higher parts on your right. After jumping on this platform, you should be able to jump onto the rotating platform on your right and from there into the last part. If you are even faster or do a frame-perfect and (2-)pixel-perfect jump (not both might apply depending on your speed before the jump) from the first platform on the left of the start, you are able to jump on the platform on top of you after grabbing the the key and moving to the right.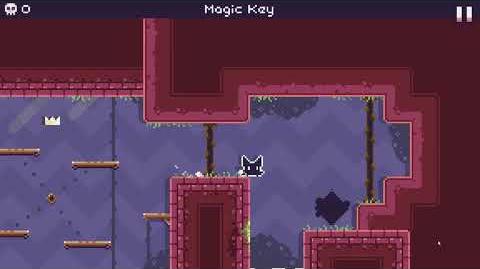 Community content is available under
CC-BY-SA
unless otherwise noted.